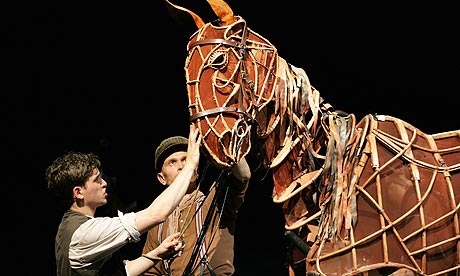 Several big screen films has been made about horses in various context including black beauty which traces the journey of a horse from the countryside field he was born to a big city. War Horse a novel by Michael Morpurgo which was successfully adapted for theatre has been a success at the West End for quite a while now, recently acclaimed file maker Steven Spielberg bought the film right to War Horse recently and he has just announced that he will be directing the film adaptation of War Horse.
War Horse is a touching story about a boy's love for his horse and their mutual suffering amid the carnage of the First World War, the story not only explore the horrors of war from both the boys viewpoint and his horse's viewpoint and how it affected them both.
In previous films, Spielberg has explored the relationship between children and other creatures, bringing out sides of children and seemingly dumb creature that actually have a lot to offer, his extra terrestrial film (ET) did just that; communication and understanding between ET an alien and child formed the core of the story. Spielberg also directed another film exploring the survival of a boy in the Japanese occupation of Shanghai which was based on J G Ballard's autobiography; Empire of the Sun.
Theatre purist argue that no amount of magic Spielberg and his DreamWorks studio can apply to War Horse to make it a memorable as the stage version which is still going very strong at New London Theatre and it due to open in New York in 2011.